Miracles Get A Thanks
Good news! Credit unions now have the opportunity to do two good deeds at once.
CUToday.info has partnered with CU4Kids on an initiative that both raises funds for Children's Miracle Network hospitals and gives your credit union or organization the opportunity to bring some public and well-deserved recognition to one or more unsung heroes.
Do you have someone at your credit union who regularly performs "miracles"? Who regularly gets tough jobs done and resolves problems, but who never gets as much credit as they deserve? Someone who goes above and beyond to make a positive impact in their community?
A Very Public 'Thanks!'
The partnership between CU4Kids and CUToday.info is your chance to give a very public "Thanks" to a miracle worker at your credit unions.
In short, CU4Kids and CUToday.info are teaming on the initiative that both does good and recognizes the good. Later this year during Thanksgiving season, CU4Kids and CUToday.info are offering your organization the opportunity to bring a smile to a child and a spotlight to an unsung hero at your credit union. The two organizations have launched a fundraiser that offers credit unions the opportunity to buy a $100 raffle ticket that will be donated to the donor's local children's hospital, with each participating CU having the opportunity to nominate one miracle worker and to publicly say thanks via a profile to be featured in the nation's leading credit union news publication, CUToday.info. In early November, one lucky CU/CU organization employee's name will be selected at random from all the credit unions that made a $100 donation.
And whether the credit union's nominee is chosen or not, all people nominated will have their names appear in CUToday.info, as well.
All funds raised will be disbursed to each individual donor's local children's hospital.
How It Works
Here's how it works:
Click "donate to this campaign" and complete the $100 donation.

You receive an additional entry for each $100 donation that is made!

During the donation process, you will have a chance to include the name of the employee you would like to recognize and why. If you aren't sure who the employee is yet, you can leave it blank and decide later if you win.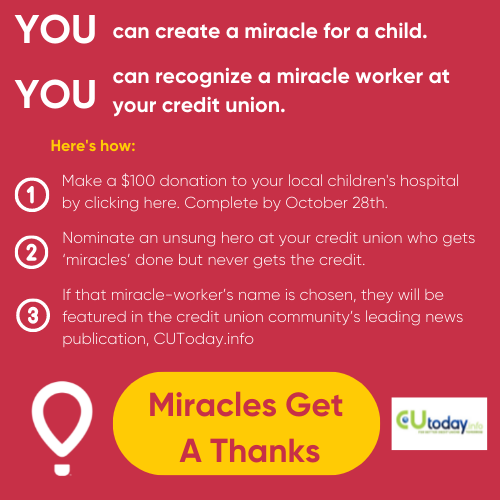 Have a question? Contact Nick Coleman, Director of Strategic Partnerships at CMN Hospitals, at ncoleman@cmnhospitals.org.
And for more information, go here.