Remembering Jordan Kingdon
Children's Miracle Network (CMN) Hospitals is devastated to learn of the passing of Jordan Kingdon in June 2022. Jordan is an icon in the Michigan credit union community, having worked for the Michigan Credit Union League (MCUL) since 2009. Jordan helped grow the credit union movement in multiple capacities during that time, including as Director of Government Affairs and Senior Director of Legislative Affairs.
In addition to his official job responsibilities, everyone knew Jordan to be a true champion for CMN Hospitals through the Credit Unions for Kids (CU4Kids) program. He built a special bond with a patient treated at Beaumont Children's Hospital, Jonny, as clearly seen in the photos below. Jordan supported CU4Kids fundraising efforts in a variety of ways, but his long-lasting stamp will be helping raise over $1 million through a silent and live auction that happens at the MCUL conference each year.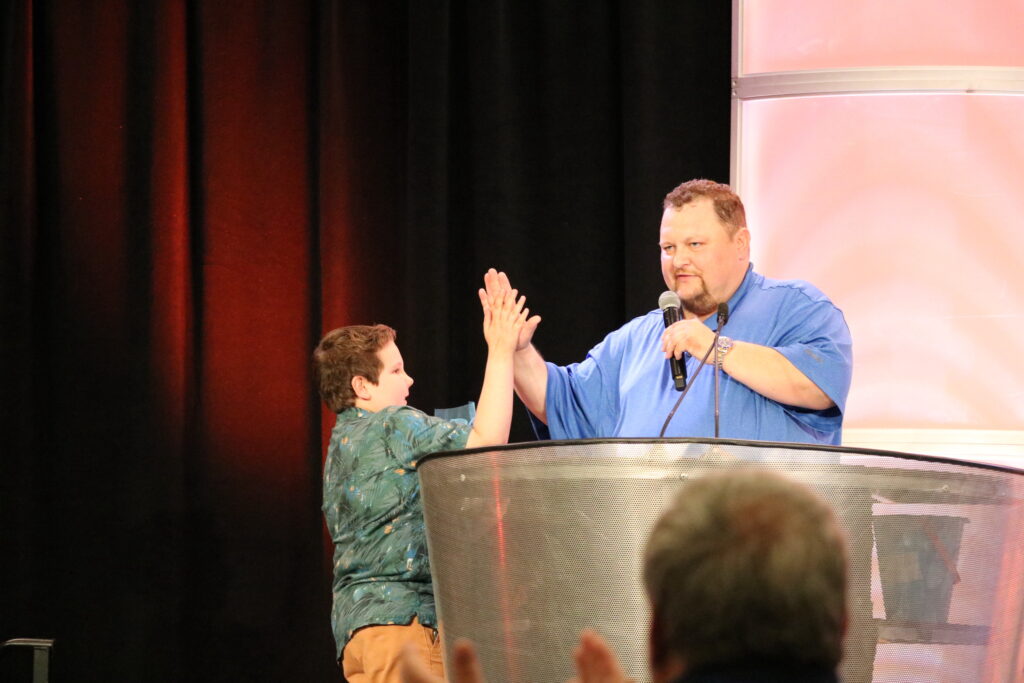 "Children's Miracle Network Hospitals joins the Michigan credit union community in grieving for the loss of Jordan Kingdon," says Nick Coleman, Director of Strategic Partnerships at CMN Hospitals. "Jordan set an example of social impact that few can match, and will positively affect many children and families treated by CMN Hospitals in Michigan for years to come. We are grateful to Jordan for his many years of service and we will continue the important work of raising funds for children's hospitals using his spirit and passion. Thank you, Jordan."
Please consider donating to a fund benefiting Jordan's two children. Click here.
Continue reading to learn about what others who worked with Jordan have to say about him:
Patty Corkery, MCUL CEO
"Jordan was an integral member of our MCUL family. His passion for the movement was clearly seen by everyone he connected with. Whether he was advocating on legislation or sitting in a credit union CEO's office, Jordan was passionate, thoughtful and engaging. I will miss his laugh, his sense of humor and hearing his stories. Jordan leaves behind an amazing legacy in our movement and I am proud to have known him."
Dave Adams, CU Solutions Group CEO
"I'm so glad to have known, and to have worked closely, with Jordan. I'll remember his many professional contributions. But I will especially think fondly of him for his kindness and warmth as a father, as a colleague and as a friend. Even through adversity, he projected joy and selflessness. Hopefully, we can pay that forward!"
Haleigh Krombeen, MCUL Director of State Advocacy
"Jordan taught me what it means to be an advocate in every sense of the word. Through our work together in the legislature and on too many Children's Miracle Network (CMN) auctions to count, he showed the importance of putting your whole heart into what you do. Together, we were able to grow MCUL's "Bids for Kids" CMN auctions to new heights year after year. This year, he finally relinquished the emcee role to me, and while I couldn't bring myself to take the stage, I'm honored that I get to continue growing this event and to be a fearless advocate for the credit union industry in Michigan, just like Jordan would do."