Miracles On 34th Street Mediathon Raises Big Money For Lauren Small Children's Center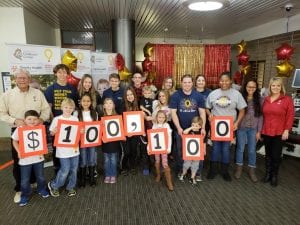 The Miracles On 34th Street Mediathon aired Wednesday, December 12 as it traditionally does on KGET-TV  and was joined again this year by 101.5 KGFM. The broadcast was live from the Lauren Small Children's Center at Bakersfield Memorial Hospital.  The result…a record-breaking $100,100 was raised!
"Last year 83 thousand dollars was raised. The $100k+ gift this year is proof of the confidence that our community has in the work that all of you do for our hospital and particularly the children who receive our care," Robin Mangarin-Scott, Vice President of Strategic Marketing and Communications.
Funds raised will purchase life-saving medical equipment, provide vital health services and support programs for kids and infants at Lauren Small Children's Center. Every dollar raised by the Mediathon stays right here in Kern County to benefit children in our community.
"We needed to buy two VDR ventilators, and we need to buy a whole bunch of sleep sacks, and this community answered the call and came through for us," Robin Woodward, Manager of Children's Miracle Network.  These sleep sacks will go home with all 3,500 babies born at Memorial to promote safe sleeping.
Children's Miracle Network Hospitals Radiothons are broadcasted on over 350 radio stations each year. Stations engage listeners with inspiring stories of Miracle Children from area communities and ask listeners to call in and pledge support for local kids.
Special thank you to KGET, KGFM, and Mediathon Presenting Sponsors, Chevron and Kern Schools Federal Credit Union for their unwavering support to help make miracles on 34th Street.