Credit Unions For Kids Wine Auction Raises $1.3 Million For 11 CMN Hospitals in California and Nevada
The thirteenth annual Credit Unions for Kids Wine Auction raised $1.3 million for the eleven Children's Miracle Network Hospitals in California and Nevada. The Credit Unions for Kids Wine Auction is the largest single Credit Unions for Kids fundraising event, raising over $1 million four years in a row and $7 million since 2006.
The sold-out event was supported by 83 credit unions, business partners and hospitals. The 475 attendees had the opportunity to bid on more than 600 packages made up of bottles of fine wine, premium whiskeys, travel getaways and concerts.
Special Guest, Kevin Irving
Kevin Irving, 20-year-old patient at UCSF Benioff Children's Hospital Oakland, shared how his journey with sickle cell disease and the experience at his local hospital changed his life.
Since birth, Kevin has battled sickle cell disease, an inherited condition that afflicts approximately 100,000 people in the U.S., and can cause tremendous pain, chronic anemia, serious infections, and organ damage. Kevin describes his pain as, "feeling like a bear hug from the Incredible Hulk himself."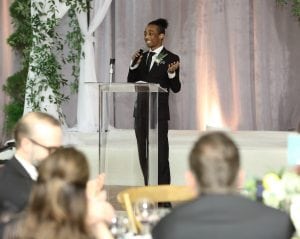 Kevin's battle has given him a high threshold for pain, allowing him to be fearless on his skateboard and BMX bike. These hobbies, coupled with his passion for cars, help take his mind off of his disease. Kevin says he doesn't allow sickle cell disease to hinder his everyday life or use it as an excuse for being inactive. "Sickle cell isn't a wall for me, but a motivation," he explains.
Setting New Milestones
"We continue to set new milestones of support each year for CMN Hospitals in California and Nevada thanks to the amazing efforts and generosity of our sponsors, donors, and volunteers," said Erin Mendez, event chairman and president and CEO of Patelco Credit Union.  "Actively supporting Children's Miracle Network Hospitals is important to credit unions. We are very pleased to be helping this great organization and the children they serve in our communities."
The Credit Unions for Kids Wine Auction is directed by an Executive Committee, with the committee's CEOs representing the benefitting hospital/s in their area:
Chairperson: Erin Mendez – Patelco CU (UCSF Benioff Children's Hospital Oakland)
Hank Barrett – Valley First CU (Valley Children's Hospital)
Carrie Birkhofer – Bay FCU (Salinas Valley Memorial Healthcare System)
John Cassidy – Sierra Central CU (UC Davis Children's Hospital)
Bill Cheney – SchoolsFirst FCU (CHOC Children's; Children's Hospital Los Angeles)
Eric Estes – Boulder Dam CU (Renown Children's Hospital; Rose Dominican Hospitals)
Teresa Freeborn – Xceed Financial CU (Children's Hospital Los Angeles)
Geri LaChance – SESLOC FCU (Cottage Children's Medical Center)
Brett Martinez – Redwood CU (UCSF Benioff Children's Hospital Oakland)
Keith Sultemeier – Kinecta FCU (Children's Hospital Los Angeles; CHOC Children's)
Nader Moghaddam – Financial Partners CU (CHOC Children's; Children's Hospital Los Angeles)
Shruti Miyashiro – Orange County's CU (CHOC Children's)
Steve O'Connell – California CU (Rady Children's Hospital San Diego; CHOC Children's; Children's Hospital Los Angeles)
Steve Renock – Kern Schools FCU (Lauren Small Children's Center)
Debra Schwartz – Mission FCU (Rady Children's Hospital San Diego)
Darren Williams – Wescom CU (Children's Hospital Los Angeles; CHOC Childrens')