Vizo Financial's Annual Hot Dog Eating Contest Raises Over $16k!
Vizo Financial has announced the champion hot dog eaters in credit unions, along with a record amount of money raised for a good cause.
The winners were announced as part of Vizo Financial's ninth annual Hot Dog Eating Contest in which there were 29 sponsors, eight contestants, three prizes and a total of $16,263 raised for Children's Miracle Network (CMN) Hospitals at Penn State Health Children's Hospital in Hershey, Penn.
Winning the prize for "The Top Dog" were Jeffrey Krenitsky, Service 1st FCU, and Logan Troutman, Belco Community CU, each of whom consumed eight hot dogs in five minutes.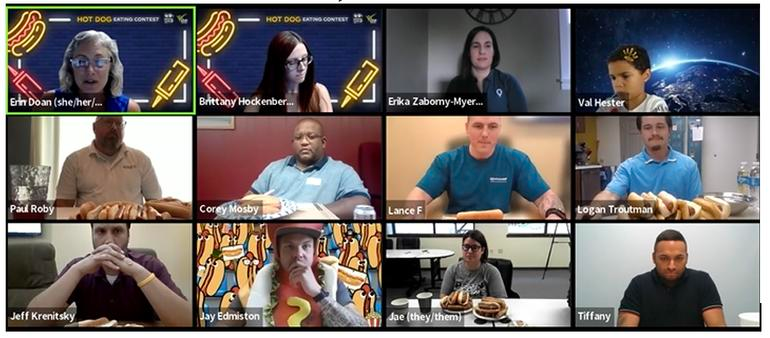 Other winners included:
Hot Diggity Dog: This prize was awarded to Jay Edmiston of Timberland FCU for showing the most spirit for the contest, which included a hot dog suit and Zoom background.
Rollin' In The Dough: This prize was also awarded to Edmiston FCU, for raising the most money – $10,500 – for Children's Miracle Network Hospitals at Penn State Health Children's Hospital.
Virtual Event
The contest was held via Zoom and began with a few words from CMN Hospitals' representative, Erika Zaborny-Myers. Also joining the contest was Miracle Child, Xander, and his mom, Val Hester, to speak about the support they receive from CMN Hospitals, as well as how the donations made to CMN Hospitals have provided their family with extra comfort in the form of small things – like flavored ChapStick during procedures – when they needed it the most.
Other contestants included: Martin Avila, Hershey FCU; Lance Fogelman, Service 1st FCU; Jae Mikalik, Vizo Financial; Corey Mosby, Blue Chip FCU, and Paul Roby, Belco Community CU.
'Absolutely Thrilled'
"We are absolutely thrilled with this year's record-breaking Hot Dog Eating Contest," said Erin Doan, diversity, equity and inclusion director for Vizo Financial. "We exceeded our fundraising goal of $10,500 and are all so thankful to everyone who made this year's Hot Dog Eating Contest a success."
According to Vizo, Timberland FCU involved the communities surrounding their four locations by hosting an event with raffles, dunk tanks and hot dogs to help raise money for the event. In total, they raised $10,500 for this year's contest. Contestant Jae Mikalik also fundraised and donated $1,120 to the contests.
A recording of the Hot Dog Eating Contest is available on Vizo Financial's YouTube page.
The Sponsors
Sponsors included:
1st Ed Credit Union
Belco Community CU
BHCU
Blue Chip FCU
Carolinas Credit Union Foundation
CU*Answers
EP Federal Credit Union
Feather CU Services, LLC
First Capital FCU
Greenville FCU
Hershey FCU
Lanco FCU
Members 1st FCU
Merck Sharp & Dohme FCU
Mon Valley Community FCU
Morning Star Baptist FCU
MY CU Services LLC
NET FCU
New Cumberland FCU
PSECU
Riverfront FCU
RKL LLP
Service 1st FCU
Shuford FCU
Susquehanna Valley FCU
Timberland FCU
Wheatland FCU
Utilities Employees CU
Vizo Financial