University FCU Employee Receives First Class Care at Dell Children's
Joe Luis Gonzalez Jr., who works as the director of consumer lending at University Federal Credit Union in Austin, Texas, received a call from his wife, Dania, about their daughter, Mia, because her breathing was labored. At just 2 months old, Mia was especially vulnerable.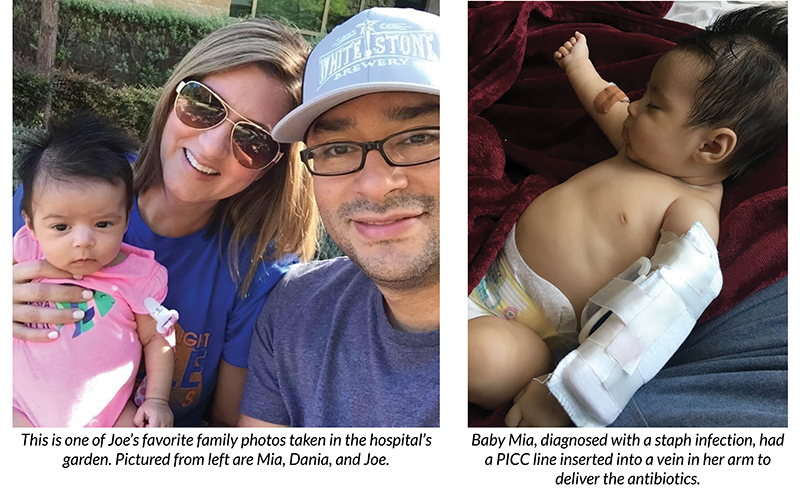 With several doctors in the Gonzalez family, Dania was able to get advice from a family member—a pediatrician—via video conference. The physician didn't like how Mia was breathing and told Dania to take her to the hospital, specifically to Dell's Children's Medical Center—a Children's Miracle Network Hospital.
With no time to spare, Joe met his wife and daughter at the hospital, where Mia's condition seemed to worsen.
The hospital staff quickly attended to the family, putting them all at ease. "The staff at the hospital was fantastic," said Joe. "They immediately took care of us and put us in a room."
Mia's fever was starting to drop, and she took a bottle, so the nurse asked Joe and Dania how they felt about taking Mia home. At that time, the medical team had run initial tests but hesitated to perform X-rays or MRIs on such a small infant.
Joe said he would feel more comfortable if they stayed the night. And it's a good thing they did. As it turned out, Mia's fever didn't drop, and the doctor ordered an X-ray. Based on the results, the doctors determined that she had a staph infection in one of her ribs, possibly caused during delivery, which likely resulted in inflammation in her lungs and labored breathing.
Fortunately, the staph infection was treatable. Antibiotics were administrated through a peripherally inserted central catheter (PICC). The PICC line, which is a long, soft, plastic tube, was inserted into a large vein in Mia's arm and was guided up into a large vein near her heart to deliver the medication.
Because of the parents' care and advanced medical knowledge, the family got to leave the hospital a little early.
"They [hospital nurses and doctors] know little ones are your world," Joe said. "Everything is designed for kids and their families. The nurses are so kind. They get to know you and make your stay as comfortable as possible."
He continued, "I'm lucky. I have great insurance through UFCU. For those who don't have good coverage or lack coverage, CU4Kids is critical. With the help they provide, it relieves families' worries about the costs."
Mia stayed in the hospital for 15 days. The family went home on Aug. 23—the day before Joe's birthday. Afterward, Joe participated in a radio telethon to raise funds for the hospital, and one of the nurses showed up just to check in and say hi.
"The nurses became our friends," he said. "They truly care."
Mia received six weeks of outpatient care following her release from the hospital. Her treatment lasted for a total of nine weeks, including follow-ups with the doctor at Dell's Children's.
"When I drive by the hospital, it's very emotional," said Joe. "Two things strike me: I have this sinking feeling in my stomach due to the very stressful situation. At the same time, I smile because it was such a good experience."
Joe stressed the importance of helping those who can't afford it. "CU4Kids provides such an important service. After the care we received for Mia, we would do anything to help. We are so thankful."
Author: Cornerstone Credit Union League