Child Health is Personal at Hughes Federal Credit Union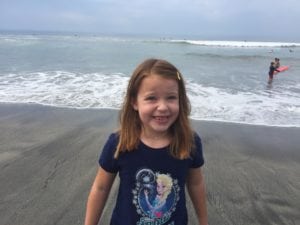 Nikki Hoffman has donated to Children's Miracle Network Hospitals throughout her 20 years at Hughes Federal Credit Union in Tucson, AZ, but when her daughter needed treatment at TMC for Children, those donations became a lot more personal.
In 2015, Nikki's daughter Addison had to undergo a tonsillectomy and endoscopy when she was just six years old. These two procedures can cause fear in adults, but especially so for young kids like Addison. Amy, a child life specialist at TMC recognized the anxiety Addison was having and immediately sprung to action to help her feel more comfortable. In addition, other hospital staff went to extraordinary lengths to make the experience as easy as possible for Addison, including for example, letting her pick the anesthesia with the smell she preferred. During one stay at the hospital Addison even got to ride a pony.
Child life specialist Amy didn't end her work with Addison. She also made sure Nikki was informed of what was going on and worked to help alleviate Nikki's stress around the procedures.
Programs like the child life program Addison benefited from are often not covered by insurance, so it's donations that really make these programs possible. Nikki said she never saw a bill for the child life experiences Addison had.
Further complications resulted in Addison having to return to TMC a few more times for treatment, but each time the staff was there to help make the experience as seamless as possible for her. The great work of the TMC team has meant that Addison largely only remembers the positive aspects of her treatment and very little of the more difficult experiences.
Hughes Federal Credit Union has actively raised funds for TMC for more than 20 years. The credit union's members and staff donate to the hospital through spring and winter fundraising drives. Hughes also sells candy bars throughout the year to further bolster its fundraising efforts. All the money raised by Hughes Federal Credit Union goes directly to benefit TMC, further entrenching the credit union as a valuable member of the community. Hughes is among the thousands of credit unions across the U.S. that raise funds for Children's Miracle Network Hospitals through Credit Unions for Kids
Next time you're in Tucson, stop by a Hughes Federal Credit Union branch and purchase a $1 candy bar. The proceeds from your purchase will benefit TMC for Children!