American Airlines FCU Raises $50k at Golf Tournament
American Airlines Federal Credit Union proudly presented Children's Miracle Network Hospitals with a $50,000 donation as a result of its 26th Annual Credit Union Golf Tournament – which took place on Sept. 2, 2022, at Cowboys Golf Club in Grapevine, Texas. The total donation will be split between Cook Children's Health Foundation and Children's Health.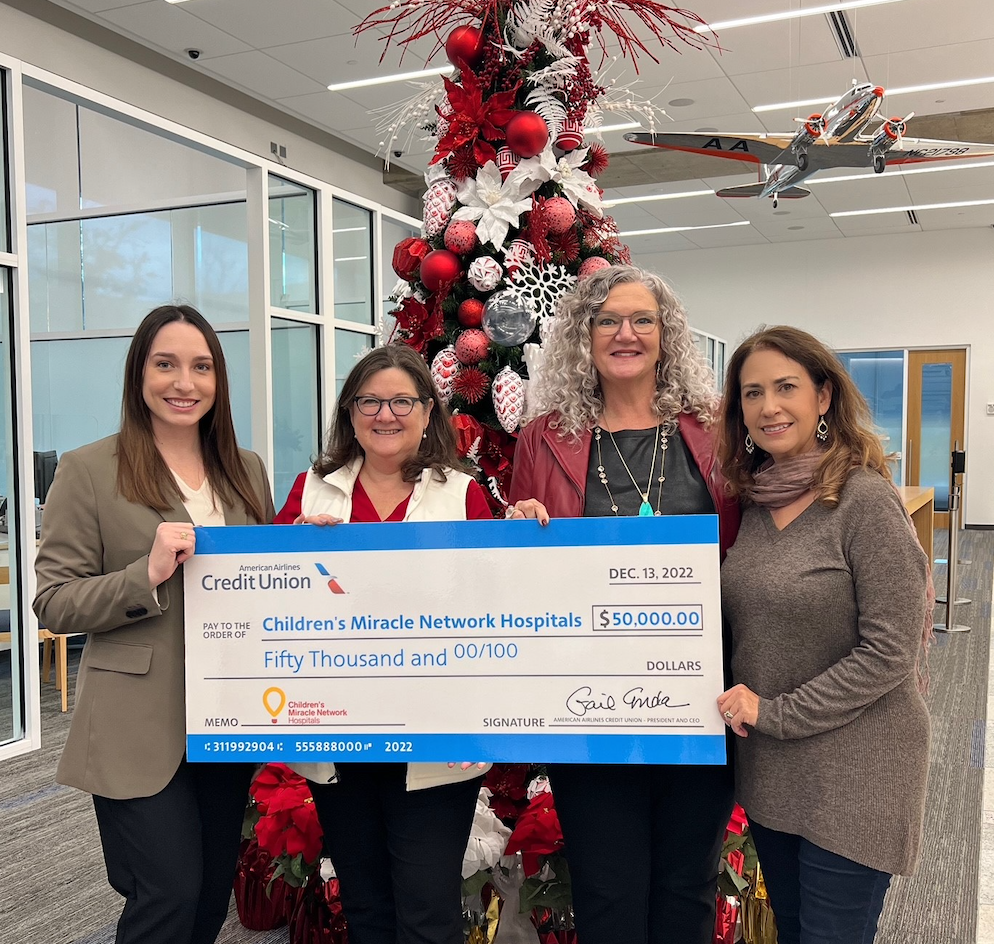 The check was presented this month at the American Airlines Credit Union headquarters building in Fort Worth. Karol Johnson, Cook Children's Medical Center in Fort Worth; and Kendall Rowden, Children's Health in Dallas; were in attendance to accept the donation from Credit Union President & CEO Gail Enda and tournament coordinator Tish Pruitt.
The tournament's presenting sponsors were Jack Henry and PSCU, with many other businesses participating at various sponsorship levels.
"It was great to be back for our annual tournament so that we could once again join together to raise much-needed funds for charities that have been struggling through the current financial climate," said Tish Pruitt, Golf Tournament Director at American Airlines Credit Union. "We may have gotten a little wet toward the end of the day, but it was worth it to think about the sunny faces of all of the young people we were helping."
"This annual fund-raiser is one of the highlights of my year especially considering what a wonderful cause it benefits," said Gail Enda, Credit Union President & CEO. "It's a great way to come together, have some fun and show our support to our healthcare community by raising much-needed funds for our children's hospitals."
Credit unions hold fast to their motto of "People Helping People" and this philosophy blossoms with the industry's support of Children's Miracle Network Hospitals.
Credit unions fund-raising under the Credit Unions for Kids brand have
partnered with Children's Miracle Network Hospitals since 1996, generating more than $100 million in contributions.
"American Airlines Credit Union has been a dedicated supporter of Children's Health for more than two decades, providing mission-critical funding to help deliver the best care possible to the children who depend on it," said Brent Christopher, president of the foundation for Children's Health. "The American Airlines Credit Union commitment to make life better for children continues to soar!"
"Cook Children's is incredibly grateful for our long-standing partnership with American Airlines Credit Union," said Grant Harris, SVP, Chief Development Officer, Cook Children's Health Foundation. "Thanks to you and your generous support of our Sit…Stay…PLAY facility dog program, our patients receive a unique form of healing through their interactions with our six therapy dogs. On behalf of our staff, patients and families, I would like to extend our sincerest gratitude for all that you do."